16WKC Preparation - Near by the Olympic Centre
Now that the lodgings for competitors and delegation members have been confirmed, I'd like to introduce some top attractions near by.
This is a list of my personal must sees that are within walking distance or a short train journey away from the Olympic centre.
#1 Tokyo Metropolitan Government Building
Stunning city views (FREE)
Tourists both local and from abroad come to this building for the free 360 degree view of the city. The Tocho building has two towers, each one with a free 45th floor observatory. From here you can see most of the city and even Mount Fuji on a good day.
The best time to visit is around sunset, watch as the sun drops behind Fuji San and as the neon lights of Tokyo spark into life.
Image - http://media.afar.com/
This building is in the Shinjuku Skyscraper district, there are lots of other buildings to check out and some good places to grab a bite to eat with the salary men.
#2 Park Hyatt Hotel and New York Bar
Cocktails, Views and live Jazz (Expensive menu + cover charge after 8:00pm)
Fans of the movie Lost in Translation will want to make a stop here, as will those who want to sample some of the city's best cocktails. Located on the 52nd floor, this place has some of the finest views of Tokyo.
After 8pm there is live jazz music and on each occasion I have been there, it has been spectacular.
Be warned. This place isn't cheap. A drink will cost most of ¥2000, and the food, while good, isn't worth it for most budgets. Guests who arrive or stay after 8:00pm are subject to the cover charge.
Dress code is smart cassual, no shorts or vests, shoes where possible. They will flat out refuse you.
Bonus, you might see some serious celebs. Like Lionel Richie!
Budget option, same hotel, same view, cheaper and I think all you can drink for 3000 yen.
#3 Yoyogi Park and Meiji-Jingu (FREE)
Wander into Yoyogi park and chill with the locals, sit down, crack a beer and enjoy the people watching. Japan has no law against drinking in public. Enjoy yourself!




Keep wandering towards Meiji Jingu, located near the Harajuku entrance, where you will find one of Japan's most important shrines. Nestled inside some dense woods, the shrine dedicated to the Emperor Meiji is a tranquil spot where you might be forgiven for thinking you have stepped outside of Tokyo. Except for all the tourists.




On a good day you might even see a wedding procession. Take photos, keep your distance and witness a great piece of Japanese culture!




Had enough relaxing? Want to see some crazy fashion? Harajuku and Omotesando shopping districts are just outside the park, Harajuku is famous for all that mad Japanese fashion and culture. Omotesando is more upper class and upper budget.




Worth a visit are

Takeshita street - The main street for teen fashion in Tokyo. Hip-hop hawkers, and lady stalkers. Plus a giant 100 yen shop.

Kiddy Land - for all your character souvenir needs. This place is mental.






#4 Shinjuku shopping and drinking area
Home to madness, Shinjuku stations east side is shopping and nightlife focused. Tones of bars, clubs, host and hostess bars, massage parlors and the world's premier robot fighting restaurant.... this is as good as it gets for full bore Tokyo lunacy.




Worth a visit

Robot Restaurant

- Restaurant is pushing it, the food here is crap. But the show is out of this world. Booking in advance is required. Costs about ¥6000
Image -i.dailymail.co.uk
Kabukicho
- Packed with restaurants, bars, Yakitori and Yaki-niku spots, this is a great place to get a feel for vibrant Tokyo socializing. Wander around a get a look at the seedy side of Japanese nightlife too, Hosts and Hostesses, love hotels and themed restaurants abound.
image - http://temporarilylost.com/
Golden Gai
- is an expensive but unique slice of old meets new Japan. Rows of tiny bars, each packed with individual charm and character. This place, like many like it, is on the governments pre-Olympic hit-list due to being a massive fire hazard...
image - http://www.artturi.com/GOLDEN-GAI
Many bars have cover charges and the drinks are a bit pricey, so I suggest pre-gaming in a near by bar first. There is a British bar, The Hub near by which is as good a place as any for a drink.
Shinjuku Yokocho
. Like many of Tokyo's stations there is a cluster of small izakayas selling cheap beer and cheap eats. Good for smaller groups.
Image - http://www.goodlucktripjapan.jp/img_en/54/p02.jpg
#5 Shinjuku Gyoen (200 yen)
If you want to relax in a beautiful open space, pay 200 yen to enter this patch of paradise. Relax on the lawns or wander around to the landscaped gardens. Quieter and less crowded than Yoyogi Park, this will be a nice spot to get away from the crowds.
Closes at 16:30. No I'm not kidding! As this is a private park, there are some rules, including a no alcohol rule.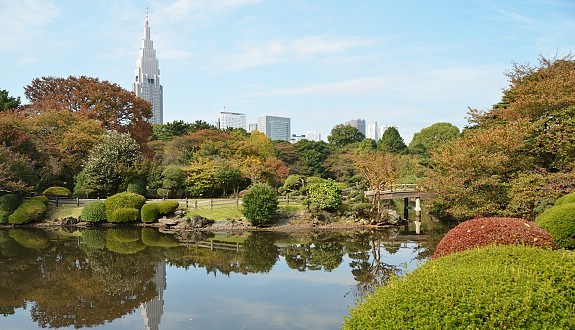 Image - www.japan-guide.com
This is just a short of list of my personal picks of what to see and do near the Olympic Village. It might not be possible to make it to all or any of them, and there are plenty of other sights to see in Tokyo but I hope this at least gives you some ideas!
Good luck! And see you in the Budokan!