16th WKC Preparation - Getting around Tokyo - Basic information, things to watch out for and tickets vs IC cards
I've already spoken about how to get to and from the Airports Narita and Haneda. In this post I'll focus on getting around Tokyo itself.
Once you arrive at your hotel/ryokan you will want to start exploring. The best way to do this in Tokyo is by taking advantage of the incredible train and public transport system.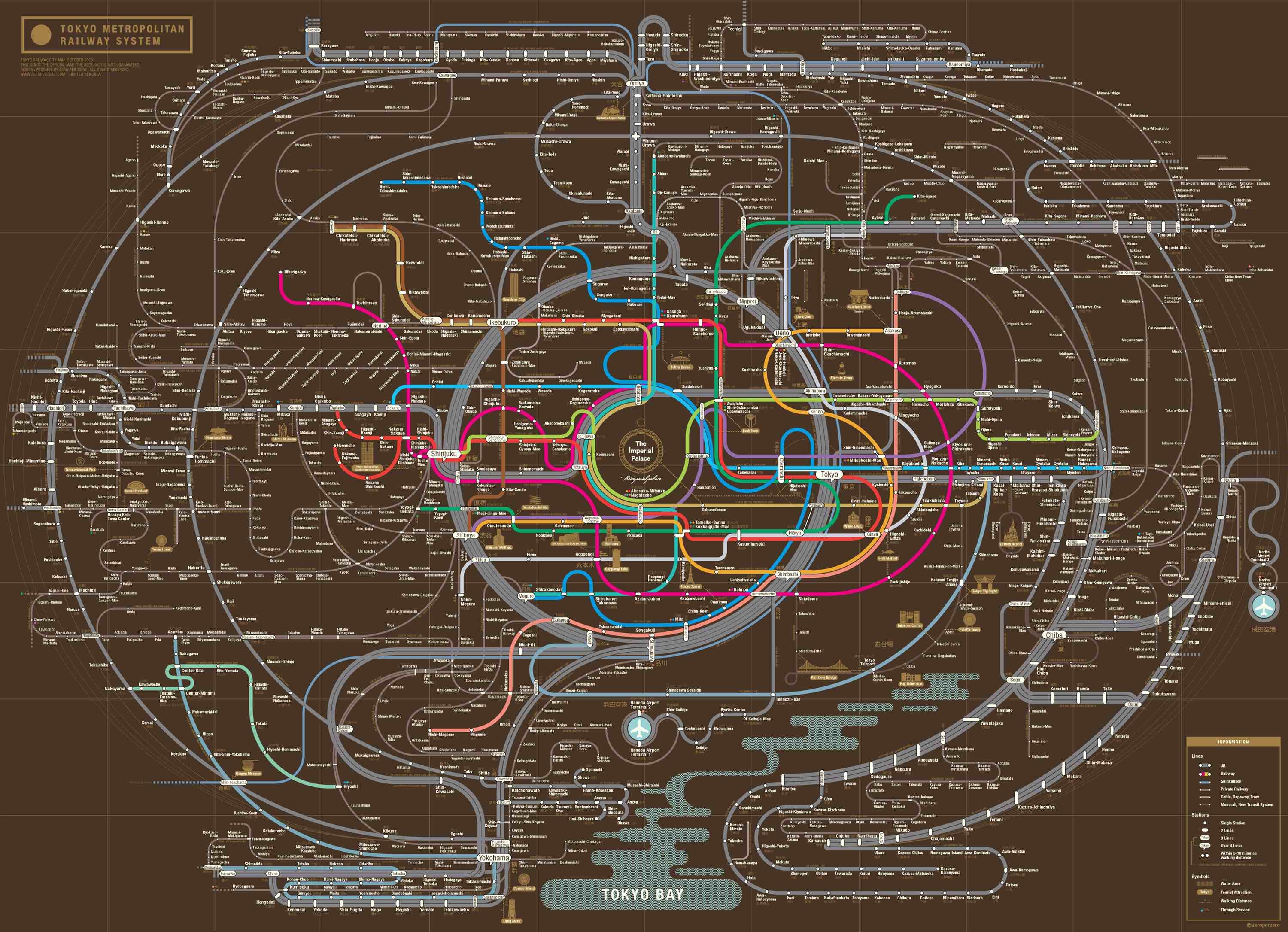 Milky Way Galaxy, sorry.... Tokyo Train lines. Image sploid.gizmodo.com
I doubt many of you will take a bus, and recommend you stick to the trains. Trains are fast, clean and on time usually to within seconds of their scheduled time.
But...
there are a couple of things you need to watch out for.
Using the trains and subway.
The main thing is not all of the trains in Tokyo are operated by the same company, this can cause a lot of confusion.
Companies
Japan Rail or JR, Tokyo Metro, Tokyu, Toei, Tobu and Koei (and more) are companies which operate over and underground trains in Tokyo and the surrounding area. If you are doing some sight seeing within the city, JR and Tokyo Metro are the best way to go. They cover most of the main attractions and the fares are pretty good.
FYI, the Nihon Budokan is located at Kudanshita Station, serviced by Tokyo Metro Hanzomon Line and Tozai Line as well as the Toei Shinjuku Line.
Tokyo Metro has this fantastic guide for first time users. Worth checking it out! Most of the train companies' ticket machine and ticket gates are the same, so this guide will be helpful for other lines too.
Transferring between companies.
Transferring while sticking with one company will not cost extra, however switching companies is different.
Fares between each company are non transferable. If you take the Tokyo Metro, and then transfer to the JR Line, you will have to pay both companies. Transferring between companies is not always necessary and can be avoided, but it is common enough.
Tickets and paying your fare.
There are two options for paying your fare, regular single journey tickets, or prepaid chargeable passes. All ticket machines can be switched to English with the press of a button.
If you use paper tickets and going between companies, this often means having to buy another one at your transfer station. If you are using a prepaid card, you simply transfer by scanning out of one line and into another.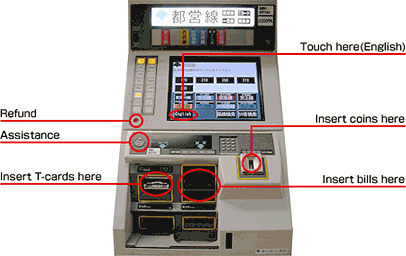 Toei Ticket Machine. Image http://www.kotsu.metro.tokyo.jp/eng/
The image above is a Toei Machine, but almost every other machine has the same layout. If you are stuck, look for the English button. (T-Card means credit or IC card, see below)
Option 1 - Prepaid IC cards
IC cards are super convenient and can be used to pay for almost anything these days. Including buses, trains, taxis and vending machines. Many shops and some restaurants are now accepting payments this way too.
IC cards can be used across lines and makes paying fares hassle free.
There are two kinds in Tokyo, Suica and Pasmo. (I know, I know, why are there two brands? 'cause Japan that's why! )
Image - https://c1.staticflickr.com/1/22/30184932_c48ef7916f.jpg
Image - http://www.pasmo.co.jp/en/
Until recently these cards were incompatible... (again, 'cause Japan that's why) but now you can use any card on any line.
Buying a Pasmo (same applies to a Suica)
When buying for the first time, you will pay a set charge amount, 1000, 2000 etc. from which a 500 yen deposit will be taken. If you return the card to a station office, they will refund the deposit.
Charging your IC Card.
When your card runs out of money simply go to any ticket machine and insert your IC card. You should be automatically taken to the charge screen.
Choose the amount you would like to add to your card, and insert your cash. That's it!
Using your IC Card
Simply approach the automatic ticket gate, and touch your IC card firmly to the blue symbol on your right hand side.
The gate will beep and you will be quickly on your way. Tokyo's gates are really good, and it's a lot quicker than other cities I've been to (here's looking at you New York and Hong Kong!)
In the unfortunate event that your card isn't read, or that you haven't got enough to pay the fare, the gate will close and flash red. A small screen on the right will say "touch your card again" or "insufficient fare". Wait a moment and touch again, or if you need to adjust your fare, step back and head to the fare adjustment machine.
Adjusting your fare (applies to paper tickets too)
If you need to add value to your IC card or Ticket, head to the fare adjustment machine. Usually located next to the gates.
This is just like a regular ticket machine, hit the English button and insert your IC card or ticket.
You will be asked to pay the remainder of the fare, or charge your IC card. Once you pay the fare, you will get back your IC card, or a new adjusted ticket, and you can head through the gates.
Fare adjustment machine.

Image - bartman905.files.wordpress.com
Option 2 - Tickets
Single fare tickets for for one journey can be purchased at any train station, but are only valid for the relevant train company.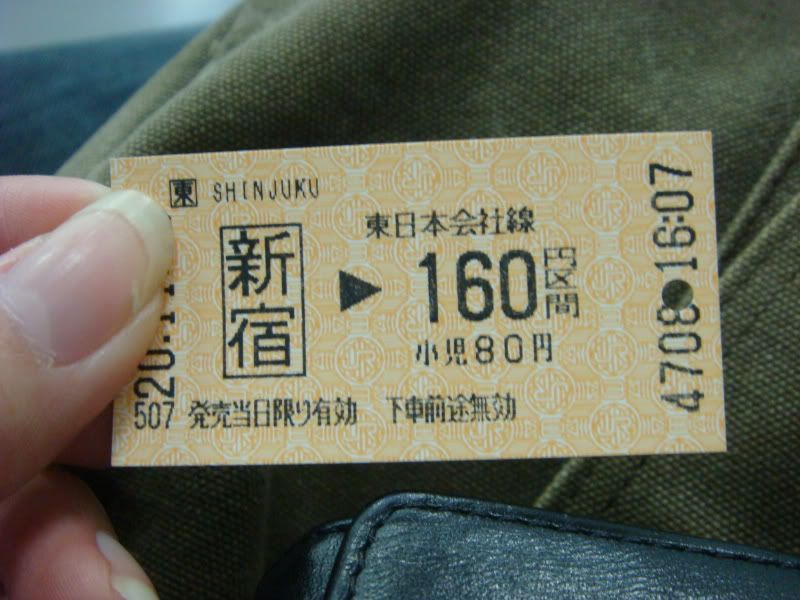 Image - http://lindypompipi.livejournal.com/
Choosing your fare and buying your ticket
Fare information will be shown on a large, very confusing map, above the ticket machines. Station names are written in Roman letters so you should be able to figure out where you are going. If you look lost, an eager English learner will no doubt POUNCE on the chance to practice with a real live foreigner and will offer help
Once you know your fare, hit that number on the screen. Easy. Put in your cash and take your ticket.
Buying a ticket. Image http://www.tokyometro.jp/en/
Using your ticket
Approach the automatic ticket gates, and insert your ticket into the slot on the right hand side. When starting your journey your ticket will pop back up infront of you. When ending your journey it won't.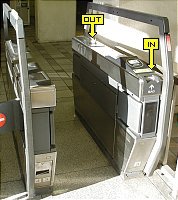 Ticket Gate, IN/OUT - Image: http://www.japan-guide.com
Adjusting your fare
Same as for IC cards, see above section.
Note for JR Pass users.
You can't use your JR Pass at a regular machine. You have to approach the Station worker in the booth next to the ticket gates. They will scan your ticket (I think) and let you through.
Rush hour trains - Pushers and Ladies Cars
Getting to work on time is serious business in Tokyo, people cram onto trains in order to not be late.
They will push and shove, read news papers or books and take up too much space, fall over all the fucking time and act like total assholes to generally make the whole experience horrifying for the uninitiated
Between 7 - 9 am some lines are best avoided by tourists. Wait for the next train if it looks too crazy.
If you must ride the train in the morning you will most likely encounter pushers and ladies only cars on the trains. If you have bogu and a shinai bag, good luck.
Pushers
Pushers come in two varieties.
Assholes who push on and off the train with out regard for anyone else. Seriously, one of these days.....
Official Pushers or station workers
You know those guys you saw on YouTube with white gloves, who literally force people into the train?
Well, they are very much real. I've seen one guy shoulder charge an elementary school kid onto a train, cramming her in with all the salary men and other commuters. It all makes for a compact press of sweaty bodies, and entangled limbs.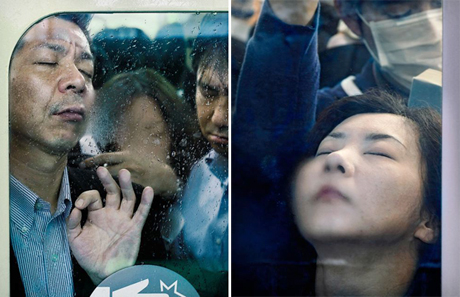 Yuuuuup. Image www.slate.com
Ladies cars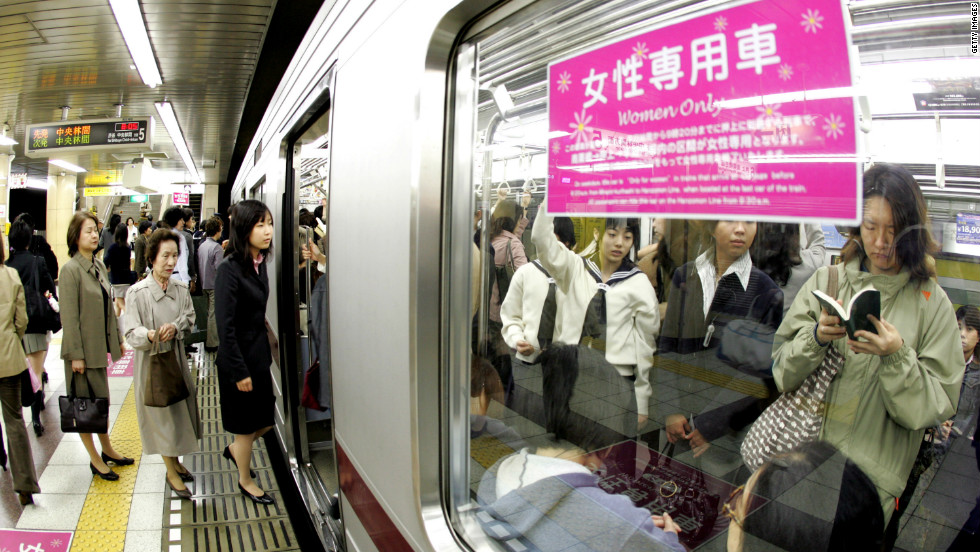 Ladies Car. Image: www.cnn.com
Ladies cars are reserved for women and school children during rush hour. Usually the first or last car on the train with a bright pink sign on the doors and windows.
These cars are usually packed with men anyway.
Like this guy. Image: http://wordpress.tokyotimes.org
Conclision
That's it! Using the trains in Tokyo can be overwhelming for some at first, but you will soon be zipping around like a local.
Both the number of trains and the sheer number of people can be disorientating at times, even for someone living here, take it easy and skip a packed train.