16th WKC Preparation - Airport transit (Narita International)
With the 16th World Kendo Championship fast approaching, teams and spectators are beginning to prepare their trips to Tokyo. In response to some email requests, I'll do my best to create a guide to getting around Tokyo.
First of all I'll cover the first stage of your journey. From one of Tokyo's two international airports, Narita in neighboring Chiba Prefecture. One thing to point out, most of the transport in Tokyo is 100% legitimate, you wont have to worry about bartering for fares or no meter taxis.
From Nartia there are a number of options. There are always promotions and special ticket discounts going so please keep an eye on the websites linked blow.
Option 1: JR Trains.
From Narita the nicest way to reach most of the major stations in Tokyo and Yokohama is by taking the Narita Express (N'EX). This is a "bullet train" and although it doesn't reach the high speeds you might expect, it is one of the quickest options.
Right now, tourists can get a two week return pass for just ¥4000 (regular one way passes are ¥3020)
This is an absolute BARGIN and I think it should be high on most peoples lists.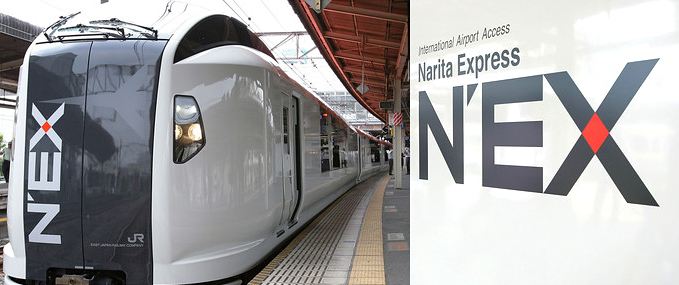 Look at that BEAST! Awesome looking train.
The Sobu line Rapid service is another popular choice. This is basically a regular commuter train that anyone can ride. There are reserved seats, and regular standing/seating carriages. I used this the most in the past, and at ¥1320 each way, it is a great cheap option.
For tourists with bags and shinai etc, it can be a bit annoying if you get on a busy train. I'd recommed the N'EX with the current discount offer!
Option 2: Keisei Line
This high speed train was how I first made my way to Tokyo! Ahhhh memories.... arriving in Ueno, and heading STRAIGHT to Eiko Budogu (which was closed :( ).
This is a great option for those staying in the Taito area of Tokyo, where a lot of the cheap back-packer hostels are located. Costing about ¥2470 for a one way ticket, this is a little bit more expensive than the N'EX, but if Ueno is your jumping off point for hotel access, its a great option.
The quickest travel time to down town Tokyo.
Option 3: Airport Bus
Cruising into Tokyo late at night on a highway bus is an experience. Zipping along more than 8 floors up, surrounded by tall buildings with red blinking lights and seeing the bright lights of the vast metropolis spread out before you is pretty breath taking. You wont get a view like it from the train options above.
City bound buses from Narita are a cheap and convenient (and less crowded) way to get from the airport to a number of locations in Tokyo. Check the link above for more information.
Fans of the anime AKIRA will love this option as it feels like you are approaching Neo Tokyo from the opening scene. (When I lived in the countryside, I would come by bus to Tokyo every few weeks, nostalgia.....)
TETSUOOOOOOOOOO!
Taxi.
While it could be an option from Haneda, I do not recommend taking a taxi from Narita. It would be prohibitively expensive for most.
I hope that this quick post helps those who are making their own way into the city from Narita Airport, I will cover Haneda Airport in a separate post. If you have any questions please feel free to ask.
Thanks for reading!